SXSW 2012
We've completed this project, but we'd be happy to keep you informed about future missions to this destination.
From 11-15 March 2012 handelsroute.nl will organize a Holland Pavilion for Dutch interactive companies to the South by Southwest(SXSW) conference and festival, Austin Texas.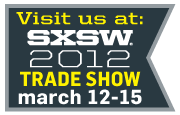 Visit The DUTCH PAVILION @ SXSW 2012
STAND No. 1215
or join the party on March 13 with drinks and music at the Holland Pavilion
WHO WILL BE AT THE HOLLAND PAVILION?
SEE THE
OVERVIEW
Background:
SXSW is the long standing festival and conference that draws over 36,000 creative professionals from around the world to Austin each March.
Born in a time before the web, email, or smart phones, SXSW history bridges the analog and digital eras. As wireless communication has connected people with the entire planet from their desktops, the need for face-to-face encounters has only grown. The value of meeting people to share ideas and do business is what makes SXSW work. SXSW is a yearly reintroduction to the passion and artistry required to produce meaningful creations that can engage the imagination of a global audience. by bringing together the people, ideas and solutions that can help you accelerate your digital business. Discuss hot topics, expand your network, gain personalized advice and interact with digital experts.
Our Holland Pavilion will give Dutch interactive the opportunity to present themselves to a large podium of potential clients and peers.
The Holland Pavilion is commisioned by Agency NL EVD International to promote Dutch companies with international ambition.